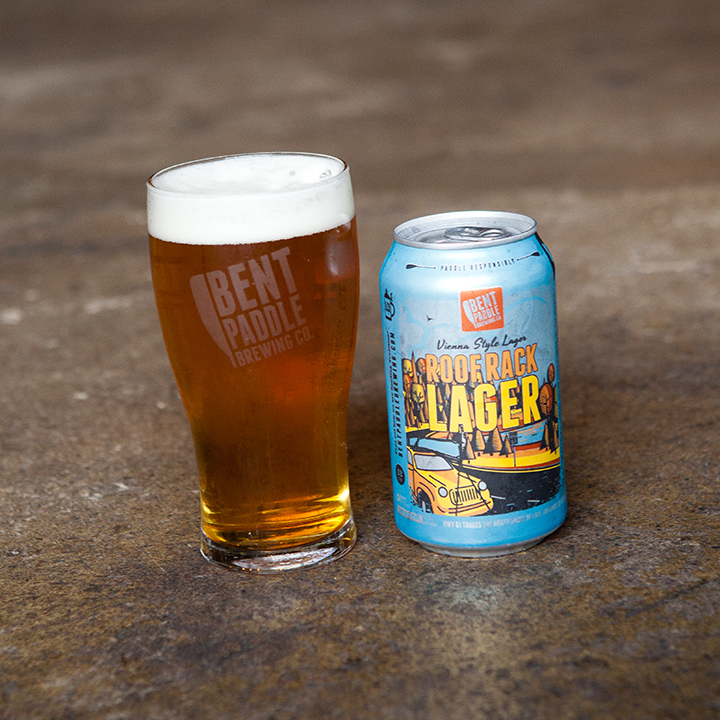 Bitter Minnesota Beer of the Week – Bent Paddle Roof Rack

Our newest pick for Bitter Minnesota Beer of the Week is Roof Rack, a Vienna-style Lager from Bent Paddle Brewing Co. Roof Rack plays malty with a bit of toastiness from Vienna Malt and is dry hopped with Mandarina Bavaria hops. Hoist your craft to your roof rack and enjoy this festive lager!

Describe the beer, taste, IBU, ABV, etc.
Style: Vienna-Style Lager
ABV: 5.7%
IBU: 27

What are the ingredients?
Malts: Weyermann® Vienna Malt, Weyermann® Carafoam & Weyermann® Acidulated Malt (for pH correction)
Hops: ­ German Tradition, German Hersbrucker, German Mandarina Bavaria
Yeast: German Lager Yeast

Beer nerd stats!
Gravity: 1.057, FG: 1.013
Plato: OG: 14°P, FG: 3.2°P
SRM: 6.5

How can I buy Roof Rack?
On Tap
Growlers
Six-pack cans

When can I buy Roof Rack?
Seasonality: Fall.
Limited edition: No, but we do an infusion with apple and spice called "Autumnal" for special bar/restaurant occasions.

Where can I buy Roof Rack?
Brewery Taproom
Local bars & restaurants in in ½, ¼, & 1/6 BBL
Liquor stores, in six-pack cans

Good with?
The soft bready malt will open up an endless possibilities. Obvious standouts will include grilled pork chops, gourd vegetables, bratwursts.
Patio drinking, while BBQing, on the couch during a football game... Just about anything! Expect even your domestic-light lager drinkers are going to enjoy this malty, German lager. From football games to hammerschlagen, this beer will go down, almost too easily.

Bent Paddle Brewing Co. is open 2 pm-10 pm Wednesdays and Thursdays; 2 pm-11 pm on Fridays and Saturdays and noon-5 pm on Sundays.
← Bitter Minnesota Brewery Tours Video
NEBDA and Bitter Minnesota Announce 2016 Halloween Brewery Crawl →