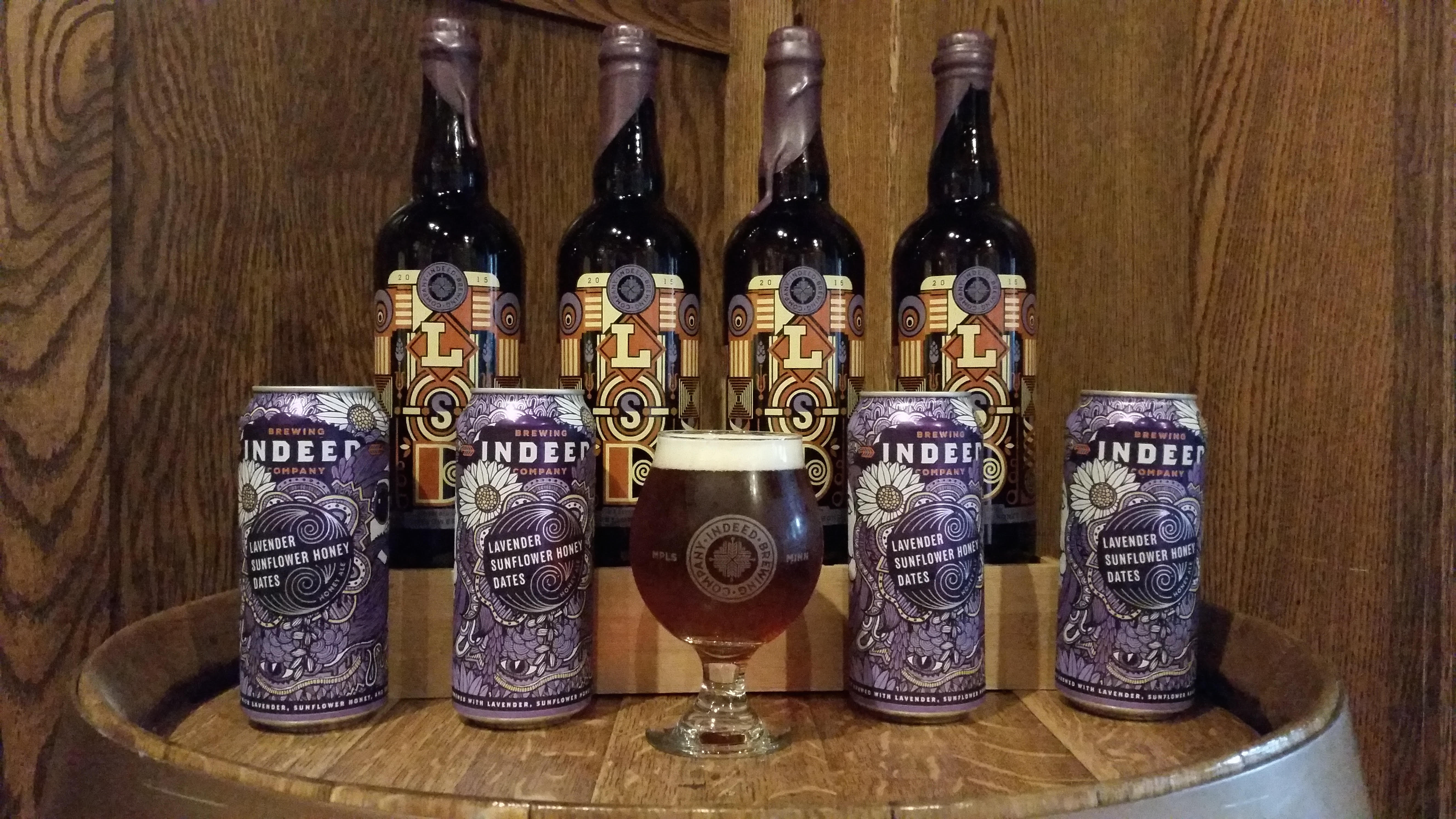 Bitter Minnesota Beer of the Week – Indeed Brewing LSD

The controversial LSD, from Minneapolis' Indeed Brewing,  does not have any actual drugs in it. Though we should get that out of the way. You will however, have a mind-bending beer experience if you taste it, thanks to electrifying floral aromas that "dance atop rich notes of fruit and honey". Sounds interesting? We think so, which is why LSD is our latest pick for Bitter Minnesota Beer of the Week!

Describe the beer, taste, IBU, ABV, etc.
A kaleidoscopic spiral of Lavender, Sunflower honey, and Dates, LSD sets the stage for a mind-bending beer experience as electrifying floral aromas dance atop rich notes of fruit and honey.
Style: Honey Ale
ABV: 7.2%
IBU: 20

What are the ingredients?
Malts: Pale, Carafoam, White Wheat, Honey Malt, Meloidi
Hops: ­ Willamette
Yeast: American Ale II
Special Ingredients: Lavender, Sunflower Honey, Dates

Beer nerd stats!
FG: 4.2
PLato: 16.5
SRM: 8

How can I buy it?
­​On tap
­750 mL bottle: 2015 and only available in the gift shop at Indeed
­16 oz cans
Growler
­Mini-growler

Where can I buy it?
Distributed throughout Minnesota, parts of North Dakota, and Wisconsin
Indeed Taproom
Bars and Restaurants
Liquor stores
Here is our Beer Finder 

Good with?
Spring and warm weather - This specialty seasonal brew is always released around Art-A-Whirl time!
Pork, Lamb, Pistachios, Ginger, cranberries

Additional details?
In 2016 the feds made Indeed change the name of LSD Honey Ale to Lavender, Sunflower Honey, Dates Honey Ale so that the acronym was no longer apparent. Indeed did not face federal regulation until the beer started to cross state lines, and for a while, when they were only selling in limited Wisconsin markets, they kept this particular beer only in Minnesota. Regulators were concerned that the name implied there were drugs in the beer. Indeed still sells it from the taproom as "LSD," but if it is packaged and sold anywhere beyond Minnesota, the label is required to read "Lavender Sunflower Honey Date Honey Ale."

FYI: cellared 2015 bomber bottles of LSD, and LSD tee shirts are available for purchase in the Indeed Gear Shop while supplies last!

Indeed Brewing is open 3 pm-11 pm on Wednesdays and Thursdays; noon-11 pm on Fridays and Saturdays; and noon - 8 pm on Sundays.
← Bitter Minnesota Beer of the Week – Lake Monster Brewing Serpent Summer Ale
Bitter Minnesota Beer of the Week – Tin Whiskers Wheatstone Bridge →