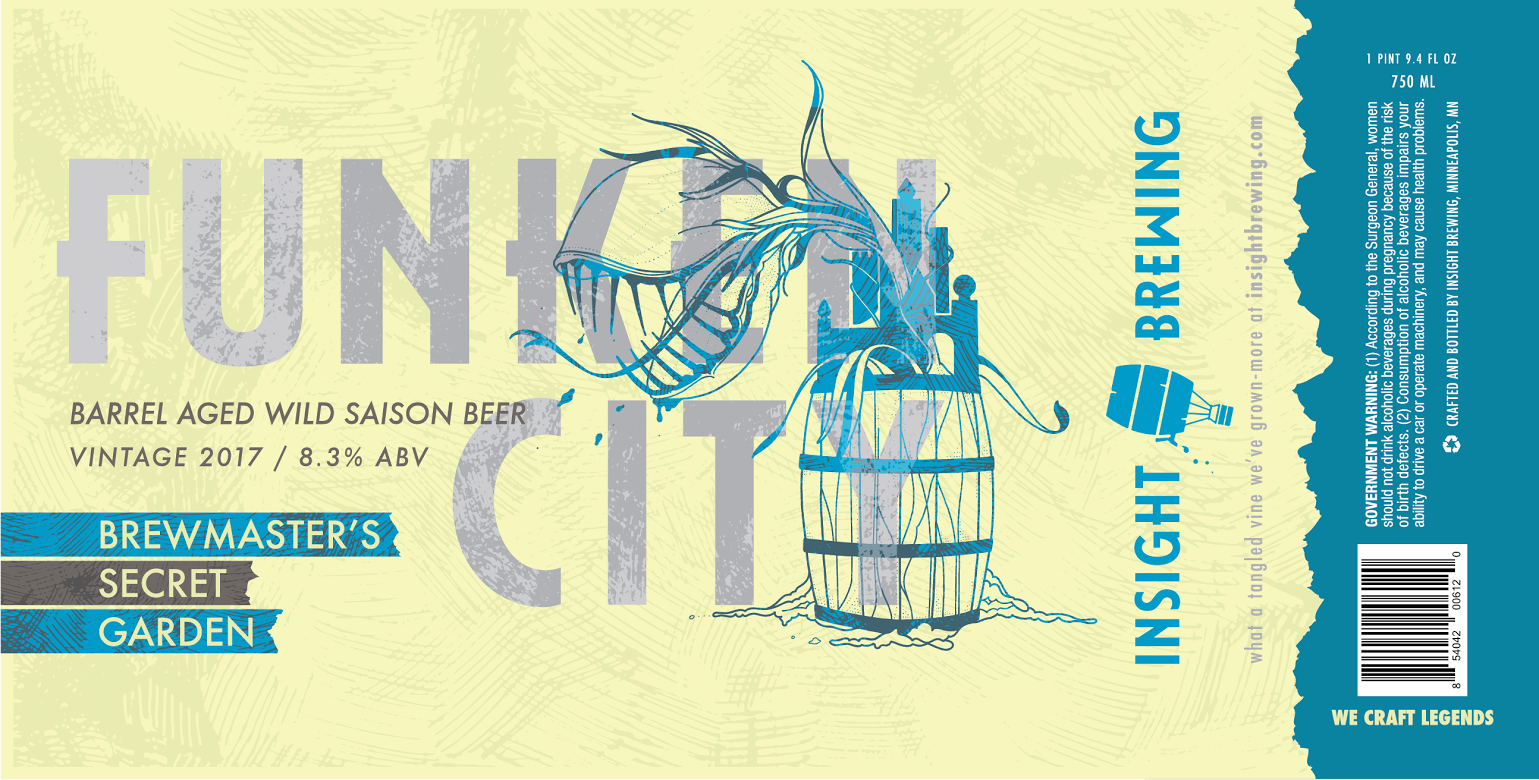 Bitter Minnesota Beer of the Week – Insight Brewing Funken City

Our newest pick for Bitter Minnesota Beer of the Week is Funken City, a limited edition sour from Insight Brewing. Co-founder Eric Schmidt tells us this beer is the first in their Brewmaster's Secret Garden series of wild and sour beers. Only 300 bottles were released in the taproom. on Friday, February 10th, and very limited release of bottles began hitting liquor stores this week.

Craft Beer Description
Style: Barrel Aged Wild Saison
ABV: 8.3%
IBU: 23

What are the ingredients?
Malts: Pilsner, Rye, Wheat
Hops: ­ Warrior, Cascade
Yeast: French Saison, then aged in a barrel inoculated with brett

Beer nerd stats!
FG: 1.000
Plato: 0
SRM: 3.4

How can I buy Funken City?
On Tap
Bomber (750ml bottle)

When can I buy Funken City?
Extremely limited edition, available while supplies last.

Where can I buy Funken City?
Brewery Taproom
Local bars -Only 25 bars will receive a 1/6 bbl keg
Liquor stores- Only these 31 stores will receive either one or two cases (12 or 24 bottles):

Surdyk's Liquor and Cheese Shop

Zipps Liquors

South Lyndale Liquors

Elevated Beer Wine and Spirits (Minneapolis)

Elevated Beer Wine and Spirits (White Bear Lake)

Stinson Wine, Beer, and Spirits

France 44 Wines and Spirits

Hennepin Lake Liquors

Tonka Bottle Shop

Central Avenue Liquors

Merwin Liquors (Falcon Heights)

Lake Wine & Spirits

Thomas Liquors

Falls Liquor

Liquor Barrel (Golden Valley)

Liquor Barrel (7th St.)

Marketplace Liquor (Savage)

Lowry Hill Liquors

Total Wine (Woodbury)

Total Wine (Eagan)

Total Wine (Bloomington)

Total Wine (Chanhassen)

Total Wine (Roseville)

Total Wine (Maple Grove)

Total Wine (Brunsville)


Good with?
A wild farmhouse saison is best paired with farmhouse foods, like grilled chicken, rich and stinky cheeses, and fresh salads.

Insight Brewing is open 3 pm - 11 pm Mon - Thu; 3 pm - midnight on Fridays, noon - midnight on Saturdays, and noon - 11 pm on Sundays.

You can visit Insight Brewing with Bitter Minnesota on Mondays, Tuesdays and Sunday evenings. Book your spot today!
← Bitter Minnesota Beer of the Week – Bent Brewstillery Gïga Lüpin
Bitter Minnesota Brewery Tours Video →