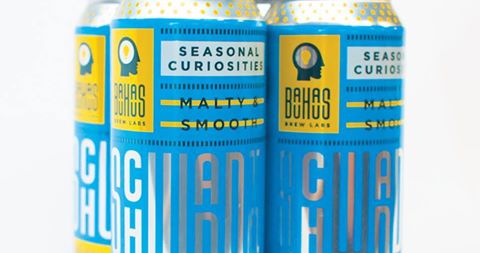 Bitter Minnesota Beer of the Week – Bauhaus Brew Labs Schwandtoberfest

Welcome to the third edition of Bitter Minnesota Beer of the Week - Bauhaus Brew Labs Schwandtoberfest!
This week, we talk to folks at Bauhaus Brew Labs about one of their seasonal offerings, the Schwandtoberfest. You guessed it – it's German!

Describe the beer, taste, IBU, ABV, etc.
Schwandtoberfest is Bavarian Style Fesbier; 5.7% ABV and 27 IBU.  For true craft beer nerds, here's some more info:
FG: 3.3ºP.
Plato: 13.9ºP.
SRM: 7.

What are the ingredients?
Malt: German Pilsner, German Vienna, German Munich, German Caramunich II, German Carafa Special III
Hops: Summit, Mandarina Bavaria, German Tettnang
Yeast: German Bock Lager

How can I buy Schwandtoberfest?
On Tap- yep!
Can – 16 ounce tall boys
Growler- you know it

When can I buy Schwandtoberfest?
Seasonally – late summer/early fall.

Where can I buy Schwandtoberfest?
Brewery Taproom – you know it!
Bars/restaurants – A very select few kegs are out now!
Liquor stores – oh yeah. A full list can be found here: bauhausbrewlabs.com/brew-map 

Good with?
A classic bavarian festbier goes well with everything, but especially well with lederhosen. Polka, foursquare, high-fiving random strangers. This beer was born in our backyard Oktoberfest parties years ago and is perfect for any celebration you can dream up!

Paired with food?
The obvious choice is is pretzels and brats, but in truth, Schwandtoberfest is one of the most food friendly beers you'll ever drink. Light, malty, crisp, and clean with a mild tangerine and orange marmalade hop aroma. It'd be a great compliment to anything spicy, with just enough malt sweetness balance out the spice.

Bauhaus Brew Labs upcoming events, hours of operation?
The second annual Schwandtoberfest Extra-Vaganza is coming up on October 3rd, featuring multiple beer tents, meats-a-plenty from Gerhard's Brats, authentic Bavarian pretzels from Aki's Breadhaus and live entertainment all day long from some of the most awesömest musicians around. If you can't make it, Bauhaus Brew Labs is open 4-11 pm on Wednesdays/Thursdays; 3 - 11 pm on Fridays, 12 - 11 pm t on Saturdays. You can also visit the brewery on our Thursday evening public tour.
← 2015 Choose Your Own Adventure Halloween Brewery Crawl
How to Survive a 5-stop Brewery Tour →