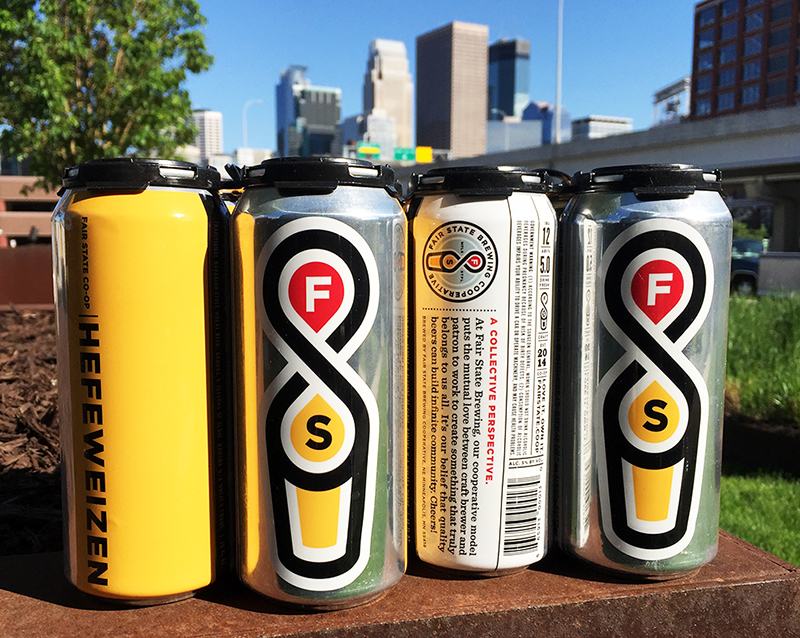 Bitter Minnesota Beer of the Week – Fair State Brewing Cooperative's Hefeweizen

Welcome to the very first edition of Bitter Minnesota Beer of the Week! We are excited to partner with local breweries on this blog series and bring to you interesting behind-the-scenes stories about how some of your favorite local craft beers are made.

To kick off the series, we sat down with Niko Tonks, head brewer at Fair State Brewing Cooperative who told us more about his favorite beer, Hefeweizen.

Describe the beer, taste, IBU, ABV, etc., and tell us a bit about the brewery and yourself?
Fair State Hefeweizen is our interpretation of the traditional Bavarian Hefeweizen, or wheat beer. The Germans call it "breakfast beer," and it is true that it works equally well at all times of day. It clocks in at 5.0% ABV and 12 IBU. Hefeweizens are dominated by yeast flavor - in this case, the classic banana and clove combination (no bananas or cloves were harmed in the production of this beer.) We do, however, go to great lengths to replicate the German style as faithfully as possible. Wheat is tough to work with, and requires more intensive mashing than your average brewing grain.

Fair State Brewing Cooperative is Minnesota's first and only cooperatively-owned brewery, which means that much like a food co-op, people can buy shares in the company, and receive benefits as a result. Membership information is available at our website, www.fairstate.coop. In the brewery, we focus on German-style beers (both ales and lagers), hoppy stuff, and sour beers. We're open 6 days a week, just north of Lowry Ave on Central, in beautiful Northeast MPLS.

What are the ingredients?
Hefeweizen is produced exclusively with continental malted barley and malted wheat. From Franconia, to be precise. We use an American variant of a noble hop for what little hop character is present in this beer. The star of the show is the yeast, which is the Weihenstephaner "68," the most famous wheat beer yeast in the world.

Where can people find this beer?
Right now our Hefeweizen is available in the taproom, at select accounts (it changes, but you can generally find Hefe at Sea Salt in South Minneapolis, at the very least since it pairs well with fish tacos), and coming in late May, in 16oz cans at liquor stores all over the metro. It'll be available until the weather turns colder, so get it while you can.

Fair State upcoming events, hours of operation?
The next big thing on the docket for Fair State (other than canning!) is our new Beer Garden. We're in the process of re-doing almost 2,000 square feet of the lot behind the brewery, putting in a nice spot to come have a beer in the sunshine. Hopefully it'll be up and running in early June.
As of June 2, Fair State Brewing Cooperative is open 7 days a week: 4-11 M-Th, 4-12 F, 12-12 Sa, 12-9 Su. You can also visit the brewery on our Saturday and Sunday public tours.

Looking to try some Fair State Brewing Cooperative beer?
Check out this list on where to buy Fair State Brewing Cooperative Beers
← Bitter Minnesota Beer of the Week – Sisyphus Brewing Citra Hop
What Are Visitors Saying About Bitter Minnesota →