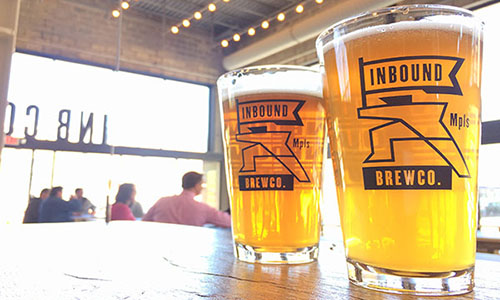 Bitter Minnesota Beer of the Week – Inbound Brewco Dampfbier

When Inbound Brewco opened in North Loop neighborhood earlier this year, they promised to create unique small batch beers. And they kept that promise. As our Bitter Minnesota Beer of the Week, we're highlighting one of those unique creations: Dampfbier (pronounced "dumm-pff-beer").
Dampfbier, or "steam beer", is a warm-fermented ale that produces copious amounts of foam and bubbles on the surface. As these surface bubbles burst, they give the appearance that the ferment is boiling, even "steaming." Are you intrigued yet?

Describe the beer, taste, IBU, ABV, etc.
Style: Dampfbier or "steam beer"
ABV: 5.4%
IBU: 21

What are the ingredients?
Malts: Domestic 2-Row; German Vienna, Munich, and Crystal
Hops: Hallertau Mittelfruh
Yeast: German Weizen

Beer nerd stats!
FG: 3.1 plato
OG: 13 plato
SRM: 10 - light amber

How can I buy Dampfbier?
On Tap
Growler at taproom occasional (offered growlers rotate per week)

When can I buy Dampfbier?
Right now!

Where can I buy Dampfbier?
Brewery taproom only.

Good with?
Roast pork, sausage. Roast chicken. Pretzels. Artisan bread. Salmon. Nutty dry cheeses. Apples.

Additional details?
Inbound Brewco is open daily, noon - midnight. Check their social media accounts for special hours during Twins baseball games and closings for private events.

To visit Inbound Brewco with Bitter Minnesota, book your spot on our Monday public tour.
← Bitter Minnesota Beer of the Week – Urban Growler American Pale Wheat Ale
Bitter Minnesota Beer of the Week – Lake Monster Brewing Serpent Summer Ale →