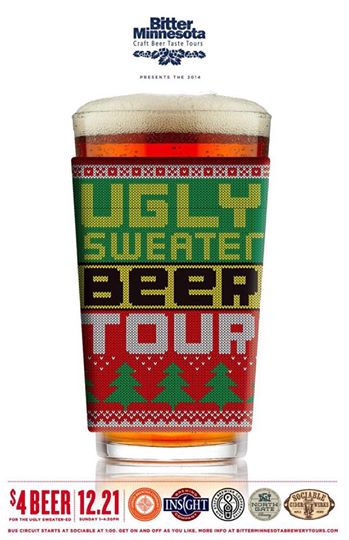 Bitter Minnesota Announces Ugly Sweater Beer Tour

Put your ugliest sweater on and join us this Sunday for the first ever Bitter Minnesota Ugly Sweater Beer Tour! Here are the deets.

WHO:  Bitter Minnesota, in collaboration with Sociable Cider Werks, Indeed Brewing, Insight Brewing, Fair State Brewing and Northgate Brewing.

WHAT: Ugly Sweater Beer Tour

WHEN: 1 p.m. - 4:30 p.m. Sunday, December 21, 2014

WHERE: Bus circuit starts at Sociable Cider Werks at 1 p.m. Get on and off as you like. Rides on the Bitter Minnesota bus are FREE. Breweries will serve $4 beers for the ugly sweater-ed.

WHY: Because it's fun!
← Growler Releases "The Year in Beer 2014"
City Pages Includes Bitter Minnesota In Their Holiday Gift Guide for Beer Lovers →