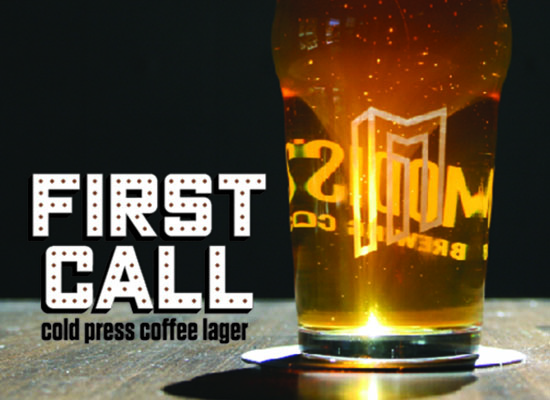 Bitter Minnesota Beer of the Week – Modist Brewing First Call

Full disclosure: Modist Brewing is one of our favorite hangout spots. Part of it has to do with the fact we're next door neighbors, but if we're being honest, it's their delicious, delicious beer that keeps us going back. First Call, their cafe con leche inspired cold­ press lager, is our latest Bitter Minnesota Beer of the Week and we can't recommend it enough. First Call is available year long at Modist taproom.

Describe the beer, taste, IBU, ABV, etc.
ABV: 6.5%
IBU: 24

What are the ingredients?
Irish Stout Malt, Oats, Lactose, Coffee
Hops: ­Comet
Yeast: Lager Yeast II

Beer nerd stats!
SRM: 4

How can I buy it?
­On tap - at the taproom
Crowlers and Growler fills at the Taproom

When can I buy it?
Year round!

Where can I buy it?
Taproom
Local distribution: Republic, Happy Gnome, Stanley's, more coming soon!

Good with?
Breakfast food or a late night pick me up
Patio brunch drinking, hangover curing

Additional details?
Modist Brewing is open 4 pm-10 pm Monday through Thursday; noon-midnight on Fridays and Saturdays, and noon-8 pm on Sundays. Modist is closed on Mondays, except for home Twins games.

You can also visit Modist on our Thursday evening brewery tour.
← Bitter Minnesota Beer of the Week – Bauhaus Brew Labs Hot Tropic
Bitter Minnesota Beer of the Week – Dakota Skipper Endangered Reserve →