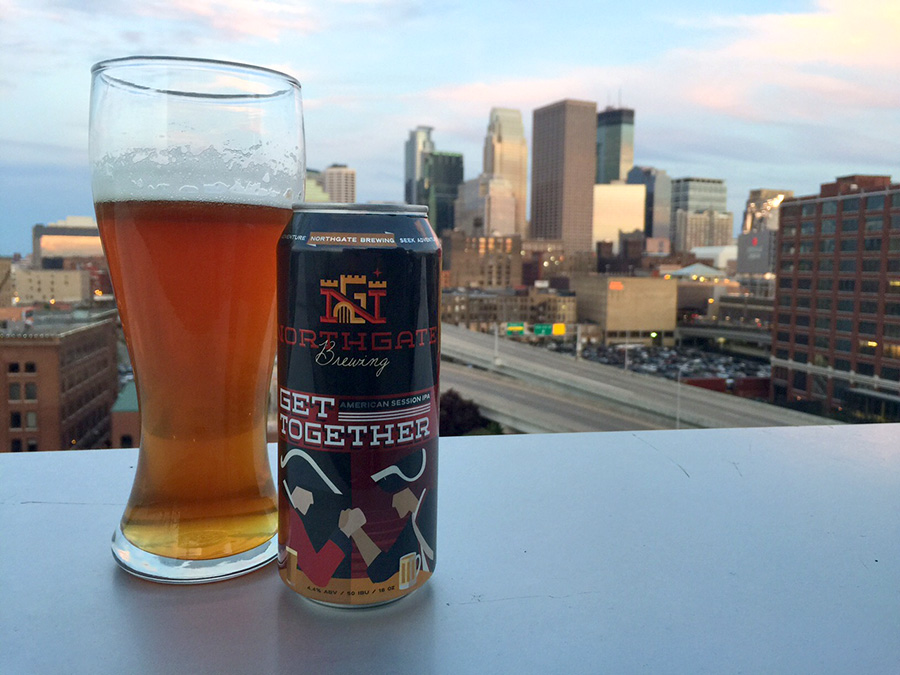 Bitter Minnesota Beer of the Week – NorthGate Brewing Get Together

Welcome to the third edition of Bitter Minnesota Beer of the Week - NorthGate Brewing Get Together!

This week, we talk to our friends at NorthGate Brewing, taproom manager Jim Olson and co-owner Adam Sjogren about Get Together, their recommendation for a great summer beer.

Describe the beer, taste, IBU, ABV, etc., and tell us a bit about the brewery and yourself?
NorthGate Brewing Get Together is an American session IPA; 4.4% ABV and 50 IBU. Enjoy it  anytime you need to "get together with old friends and new adversaries."

NorthGate Brewing began distribution in January, 2012 as a Northeast Minneapolis brewery focused on English styles and session beer. Wall's End English Brown Ale leads the malt-forward, well-balanced menu of regular and seasonal options, while American and other styles (including Get Together) can usually be found in The Pub, NorthGate's tap room, as well as on numerous taps and at retailers around the Twin Cities metro. Sporting a brand-new outdoor seating area, foosball, and weekday happy hours & events, patrons of The Pub find a fun and comfortable space to check out what Session brew is all about.

What are the ingredients?
American 2-Row and English Light Crystal
Chinook, Columbus
English Ale Yeast

When can I buy Get Together?
Get Together is a summer seasonal - for now!

Where can I buy Get Together?
On Tap, in Growlers, and in 750ml Flagons in The Pub at NorthGate Brewing
Cans - 30 metro & suburban locations including Central Avenue Liquors, Stinson Wine & Beer, and Elevated
On tap at Red Wagon Pizza and Burger Jones (Calhoun)

Good with?
Get Together is ideal for warm summer days on the beach, backyard, or beer league sporting event. Pair it with your favorite summer fare - grilled burgers & dogs, fresh caught walleye, or some spicy kabobs...

NorthGate Brewing upcoming events, hours of operation?

NorthGate Brewing is open 4-10 pm on Wednesdays/Thursdays; 3 pm - midnight on Fridays,  noon -midnight on Saturdays and noon - 8 pm on Sundays. You can also visit the brewery on our Thursday and Sunday evening public tours.
← How to Survive a 5-stop Brewery Tour
Bitter Minnesota Beer of the Week – Sisyphus Brewing Citra Hop →